The book
Bottoms Up
was a book that I had been lusting after for the longest time. I mean, come on—what person who loves spanking
wouldn't
be interested in a book with a red tush on its cover and the words "bottoms up" perfectly framing that round ass? Edited by Rachel Kramer Bussel, this is a collection of short stories all about something that I personally love: beating some sweet bottoms.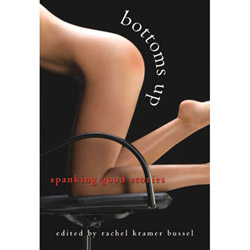 With a total of twenty stories (yes, you read that correctly—
twenty
stories), you're bound to find something that you enjoy (hopefully you'll find more than one, though). These include different dynamics of relationships and people of different sexual persuasions (polyamory included). There are many heterosexual stories, a few homosexual stories, and stories with people living out their long ignored fantasies and desires.
Some of my favorites included
Prime Time
by Teresa Noelle Roberts,
Stuffing the Ballot Box
by Andrea Dale, and
Flaming
by Jean Roberta. Out of all of those, I really loved
Prime Time
the most. It was about an experienced BDSM couple, female submissive and male Dominant, where the Dominant in the relationship was a math professor. Since I'm a math professor, I could heavily relate to the man in the story and it was quite amusing to see how similar his character was to mine (making the submissive count the strikes, thank after each one, etc.) The sex was good, too.
Stuffing the Ballot
was another one with a male Dominant (sorry, I didn't particularly like the stories with female Dominants, though I will note some that were written well later). The woman in the story is a senator, a woman of high regard and status, who needs time to "relax" and let go of herself when she's home. Her Dominant allows her to do this by giving her the much needed pain and control that she craves.
And last but certainly not least,
Flaming
is about...well...people who are flaming. Silly title, I know, but hey, what can you do? Two gay men, one who is a painter, another one who lives in the same apartment complex, help each other out. The painter needs a model for his painting, and the other man, Matthew, has had a crush on the painter for a very long time. They get together, Matthew gets spanked by the painter a bit. The reason why I liked it is because I thought that it was very cute, how Matthew dresses in drag.
Some other titles that I thought were good but were not favorites were:
A Firm Understanding by Elizabeth Coldwell (involves polyamory)
Ass Worship by Jerry Arthur (female Dominant)
Lonnie's Licks by Tenille Brown (male Dominant, but a nice message about addiction)
Confessor by Craig J. Sorensen (female Dominant)
Helping Those in Need by Gwen Masters (male Dominant)
As you can see, many of the stories were enjoyable (even to me, a sadistic little bastard). There were some others that were alright, just not tasteful in my opinion, so I am not listing them. As an entire collection, however, these were well-picked stories and they were, for the most part, well-written. They catered to a wide audience, with a wide range of stories (both for the more vanilla spanker and the more experienced). So if you like spanking and you love reading erotica,
Bottoms Up
is a wonderful book to have on your shelf.
If a book about spanking isn't your thing, you can check out all of the
other books
that
Edenfantasys
has to offer. And for a bit of a discount, enter my partner code
B5P
in order to get 15% off your entire order when you shop!
Authors included in this book are: Donna George Storey, Alison Tyler, Elizabeth Coldwell, Teresa Noelle Roberts, Jerry Arthur, Tessa Danesi, Dominique Dunbar, Simon Sheppard, Sommer Marsden, Bill Kte'pi, Tenille Brown, Stan Kent, Zille Defeu, Craig J. Sorensen, Rachel Kramer Bussel, Andrea Dale, Maddy Stuart, N. T. Morley, Jean Roberta, and finally, Gwen Masters.

Book by Various Authors
Format: Paperback
Publisher: Cleis Press Inc.
This product was provided free of charge to the reviewer.